Halloween magnets made with stones
A simple craft idea for a spooky good time
Online since: 26/10/2020, Number of visits: 70547
3. Glue on the magnets
Finally, use the
UHU MAX REPAIR
adhesive to attach the
disc magnets
to the back of the pebbles and let them dry thoroughly. Make sure the paint on the front is completely dry before turning them over to avoid smudging.
Tip:
For the colours to last longer, they can be painted over with a clear lacquer.
And with that, your frighteningly beautiful Halloween magnets are complete. You can find more Halloween arts and craft ideas under the project "
Halloween decoration
". There, we show you how to create scary Halloween characters from colourful magnetic sheets.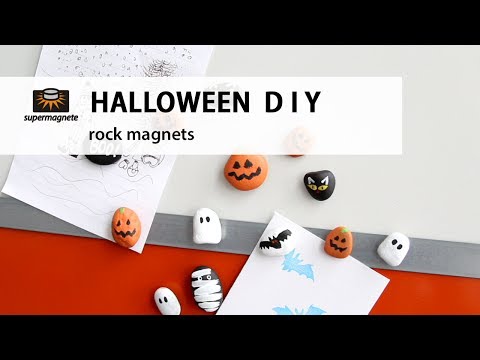 In our handicraft guide, you will find many more useful tips and tricks for making your own magnets.
Go to handicraft guide
The entire content of this site is protected by copyright.
Copying the content or using it elsewhere is not permitted without explicit approval.