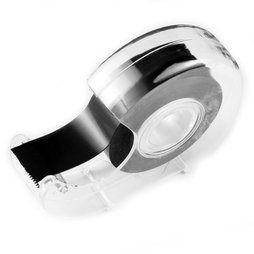 Magnetic adhesive tape
for photos, in dispenser
Description
Bestseller: Already more than 33 000 sold!
Extremely handy: An adhesive tape in a dispenser that is both adhesive and magnetic. It attaches photos, postcards, and other lightweight things easily and flexibly to ferromagnetic surfaces, without making holes.
The magnetic tape is suitable for hanging up small and light paper or thin cardboard items on the refrigerator, the whiteboard or the blackboard. Just like a standard adhesive, pull the desired length from the dispenser and cut.
Important
: For larger items or thicker cardboard you definitely need to use a self-adhesive magnetic tape, like the
Magnetic adhesive tape ferrite 20 mm
, with its 8 times higher adhesive force. With that, you can hang up even heavy objects.
Read about more features and tips
Please note

The tape is not a suitable magnetic surface for magnets. They would demagnetise the tape. A better surface for magnets would be our magnetic strips.
Technical data
| | |
| --- | --- |
| Article ID | MT-DISP |
| EAN | 7640155430586 |
| Width | 19 mm |
| Thickness | 0.3 mm |
| Length | 5 m |
| Magnetisation | Isotropic |
| Strength | 14 g/cm² |
| Weight | 150 g |