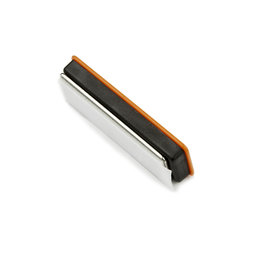 Name tag magnetic Freestyle
set for fastening a name tag, 2 parts
Description
The quick solution for all types of magnetic name tags - the set protects your clothing because needles or pins are not required. You will receive two parts: A 36 mm x 11 mm metal piece with self-adhesive film to effortlessly attach name tags, buttons or business cards. Also, a strong magnet for the inside of your clothing. The magnet is covered with a plastic material, so even those with nickel allergies can safely wear the tag.
You can use a tag of your choice, in any size (e.g. your business card)
Simple assembly, thanks to the included self-adhesive film
High adhesive force due to the use of super magnets
Comfortable to wear (weighs only 12 grams!)
Caution
: People with pacemakers need to wear this name tag on the right side of their body! A warning is attached to the reverse side of the magnet.
Read about more features and tips